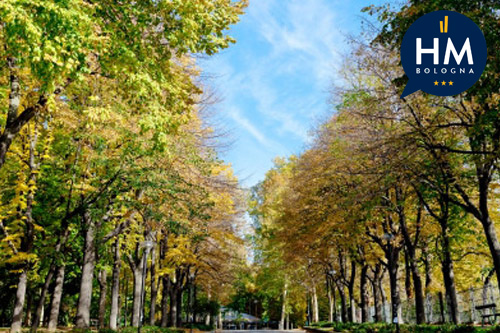 The first leaves begin twirling on the streets of Bologna and when the season forces you to leave the sandals, the city charm finds a vibrant echo among the red of bricks and the red of the trees that lose their leaves for the winter.
Bologna in autumn is magical: the clouds over the plain pass by fast and those who are fond of photography, can capture lights among terracotta roofs and the humid walls of the alleys of the Jewish ghetto.
Renowned for the warm terracotta colours of its ancient streets, Bologna in autumn is even more charming thanks to the light mists that seem enveloping the atmosphere with an ancient cloak.
Hotel Maggiore Bologna, located near the centre, is the ideal departure point to discover the city.
The marvellous Portico diSan Luca is at less than two kilometres from the hotel, near Arco del Meloncello.
Built by the citizens of Bologna during the 1600s, the arcade welcomes many pilgrims directed towards the Colle della Guardia, where the image of the Madonna with Jesus is conserved, painted personally by the Evangelist, as per tradition.
The longest arcade of Bologna is a suggestive frame in autumn through which the marvellous city landscapes can be admired while climbing to the peak. It is walked through every day by pilgrims looking for protection, sport lovers that keep in shape with long walks, sometimes on steep slopes, and road artists that paint marvellous views while sitting on small precarious stools.
After all, to enjoy the landscape, if you do not suffer of vertigo, it is worth enjoying the view on the panoramic terrace of San Petronio, on the Torre degli Asinelli or church tower of the Cattedrale di San Pietro: from the top, the city alleys viewed at sunset seem tiny inlays of precious pink lace colour. The first Christmas lights and the suspended lights of many outdoor areas of the Quadrilatero di Bologna seem romantic even for those who are more aloof.
To get out of the box and discover what's outside the city walls, Bologna in autumn offers a charming destination for art and nature lovers: Ca la Ghironda.
The marvellous museum located ten minutes by car from Hotel Maggiore Bologna, welcomes visitors in a unique artistic park of 10 hectares populated by 210 monumental sculptures of great modern artists like Manzù, Zorio, Messina and Minguzzi.
On the peak of the hills, among 150 species of plants, in this unique art context, Bologna tells its recent story, less known but still charming, before the winter closes the doors to warm autumn days.