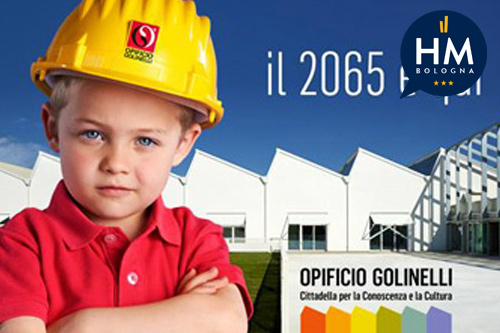 The Hotel Maggiore Bologna is just a few steps away from the Opificio Golinelli (Golinelli Factory), an important cultural institution for innovation, experimentation and scientific communication.
This part of the city, where the hotel is located, has always had a strong, dynamic and up with the times tradition, but received a stronger stimulus when in 2015 the Opificio Golinelli was born, an important scientific-cultural centre, together with the Mast.
The Fondazione Golinelli has for a long time being committed for the growth and participation of young people to the scientific and cultural development.
We are very grateful to the Fondazione Golinelli for this endeavour, that we believe is very important for the development of the area and we want to give our small logistic contribution to the realization of future and present projects.
We are the nearest hotel to the Opificio Golinelli and we are always available for any request coming from our guests who need to reach this prestigious institution.
In particular, during updating or training events, conventions or exhibitions we will be happy to provide the best possible rates, making everything that is possible to satisfy our guests requirements.
Please contact us for information and reservations, or call us at +39 051.381634.