Co-Working Room Hotel Maggiore Bologna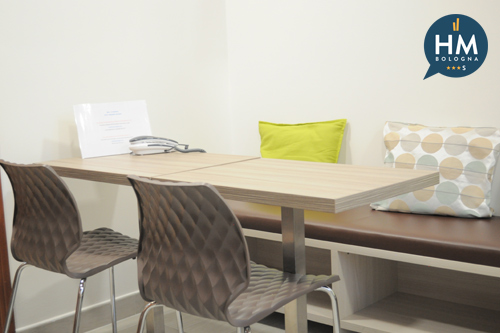 Hotel Maggiore in Bologna wants to provide you with all the necessary tools to guarantee a comfortable and welcoming stay, even from a working point of view.
For this reason our co-working room is born, a comfortable meeting area in which to devote to quick and informal work or study meetings.
Designed to accommodate a maximum of eight people, the co-working room is equipped with Wi-Fi coverage, 32-inch screen / TV with HDMI cable and telephone line in direct connection with the reception, at your disposal for any eventuality.
Available from Monday to Friday, from 11: 00h to 22: 00h, our co-working area is open to all guests who need it. However, we reserve the right to make exclusive use for a fee with prior reservation to be made subject to availability.
The strategic position of Hotel Maggiore in Bologna, well connected to the airport, to the toll booth and to the historical center of the city, makes us an ideal meeting point both for those who need to stay in the city for medium-long periods and for those simply passage: inside our structure you can take advantage of our co-working room, a comfortable and simple space, ideal for your business meetings.